MOVIE REVIEW.:. HOTEL TRANSYLVANIA 2
8:15 AM
MOVIE REVIEW.:. HOTEL TRANSYLVANIA 2
MOVIE REVIEW.:. HOTEL TRANSYLVANIA 2 //
Assalamualaikum. Holla ~ Sapa ingat lagi cerita Hotel Transylvania ni. Agak lama dah kan Hotel Transylvania ni jika nak dikira dengan cerita yang kedua ni. *sapa suruh kirakan?* Dah lama dah sebenarnya tengok cerita ni. Ni pun, time ngedate dengan SYM dan hari yang sama makan
Chili's
tu. Nampak tak betapa lamanya aku memeram telur masin supaya ianya sedap seiring waktu. Heh
2
. Sudah ! Jangan nak ke laut sangat.
Google
Aku suka lukisan Hotel Translyvania ni. Dia bersegi sikit. Tak de lah semata bulat atau semata empat segi ja. Buhsan okeh lukisan yang macam tu ! Kalau cerita Hotel Transylvania dulu cerita tentang hantu bercinta-cintun dengan manusia. Sekarang, pasangan tu dah ada anak tau. Anak lelaki, Dennis namanya. Mavis, sang emak, nak mengajar anaknya untuk hidup seperti seorang manusia, kiranya macam orang normal lah. Macam ayah dia, Johnny. Tapi datuk dia, Dracula, yakni bapa kepada Mavis, nak sangat cucu dia ni hidup seperti derang. Geng dracula. Macam-macamlah yang datuk dia ni ajar supaya si anak mengikut jejak langkahnya. Ajar terbang. Makan. Serba-serbi pasal kehidupan lah. Sebabnya, anak dia tidak mewarisi gen dracula.
Dek kerana itu, Mavis behasrat untuk membawa Dennis hidup dibandar seperti suaminya, Johnny sewaktu kecil-kecil dulu. Dennis telah ditinggalkan bersama Dracula sewaktu Mavis dan Johnny melawat ibu dan ayah mertuanya di bandar. Sepeninggalan Dennis bersama datuknya, Dracula, ada rancangan yang hebat telah diaturkan kepada cucunya itu. Nak tahu apa rancangan itu ? Nak tahu kesudahan cerita ini ? Saksikanlah sendiri Hotel Transylvania 2. Sebab aku bukan jenis yang cerita sampai ending. Bukannya apa, nanti tak best pulakkan dah tahu the whole story. Saja bagi hampa excited, nak tengok and tinggalkan ending dengan tanda tanya.
Google
Overall, cerita Hotel Transylvania 2 ni agak menarik untuk ditonton. Kalau ada anak-anak, lagi menarik sebab dapat spend time bersama. Ada humor part, ada part serious. Tak de lah terasa sangat kebudak-budakkannya. Hotel Transylvania 2, boleh layan ~ Kot mana pun, aku tetap suka dengan lukisan dia. Ngeh
2
Google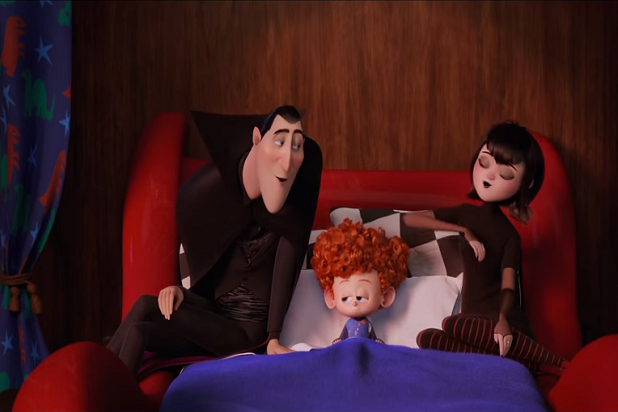 Google