YOU NEED A HOLIDAY LAH - LONDON !
3:19 PM
Assalamualaikum. Holla ~
Bercuti ? Melancong ? Sapa tak suka
kan
? Sapa yang tak mau
kan
? Seumpama orang mengantuk yang disorongkan bantal lah. Nak
2
kalau destinasi tu memang destinasi yang telah lama diidam-idamkan. Siap termimpi-mimpilah katakan.
Traveloka sedang membuat promosi sehingga December 2016 dan ada jugak sehingga January 2017. Di
Traveloka
, hampa boleh pilih untuk flight dan tempat untuk berteduh sewaktu melancong jugak. Dah alang-alang
#MyTravelokaEscapade nak bagi peluang untuk bercuti secara percuma
, mulalah nak start berangan
kan
. Antara destinasi yang menjadi pilihan hatiku untuk melancong ialah
London
. Kenapa London ?
Umum mengetahui *bajet sangat* aku memang pencinta Sejarah, peminat bangunan lama
2
. Tak berkelip mata memandang kalau tengok bangunan lama ni. Dengan design dia, architecture dia. Impress! So, it reveals places in
London
that I would love to be.
Tower of London
Mungkin architecture luaran dia tak secantik
Buckingham
Palace
. Tapi, bagi aku, bangunan berseni ni, memang semuanya cantik dan takkan pernah jemu melihat. Kadang aku terfikir jugak, aku ni salah amek bidang engineering ka ? Sepatutnya aku amek bidang Sejarah
kan
. Haih ! Terdiri daripada 12 tower kesemuanya, mungkin membuatkan aku berada disini untuk setengah hari atau mungkin sehari.
Err.. tetiba rasa macam berada didalam dunia Harry Poter... kikiki
Tower Bridge
Masa kecik-kecik dulu selalu disajikan dengan lagu kanak-kanak
London
Bridge
is Falling Down, dan disebabkan tu aku memang berhajat sangat nak tengok
London
Bridge
ni. Sifat ingin tahu zaman kanak-kanak tu lah yang membuatkan aku teringin nak tengok sendiri Tower Bridge of London ni. Kagum dengan design a bridge in a tower, kagum dengan the tower itself. Mohon jangan air liur menitik bagai hujan lebat kalau ada rezeki nak tengok
London
Bridge
tu nanti. In sha allah
Tower Bridge ni jugak boleh terbukak sekiranya kapal ingin melaluinya. Kat Malaysia belum ada lagi jambatan seumpama ini.
Westminster Abbey
Moh la ke bangunan seterusnya, Westminster Abbey. Walaupun ia adalah sebuah gereja, tapi aku tetap nak melangkahkan kaki ke sini. Gilanya tak ! Can't get get my eyes off over the building. Terasa macam Gurukul dalam cerita Mohabbatein pulak.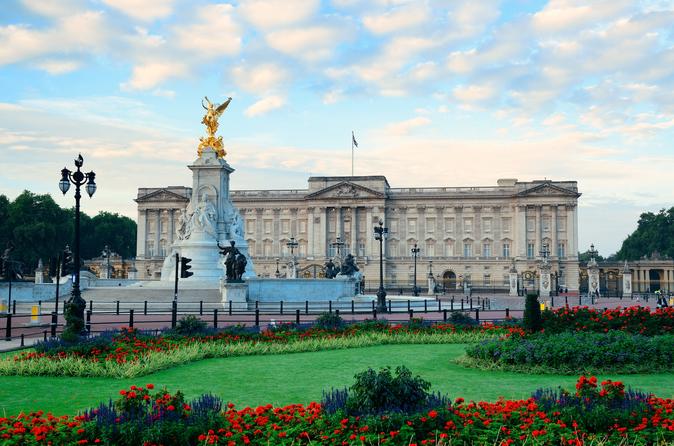 Buckingham Palace
Satu lagi tempat yang memang ada dalam wishlist aku kalau ke London. Tengok lah architecture dia. Awat cantik sangat ni ? Sambil cuci mata, mana tahu boleh jumpa Queen Elizabeth. Wah ! Syoknyaa…. Kot jauh pun jadi lah..
London Eye
Masa first time dengaq Eye On Malaysia, jejakkan base nya dekat KL, rasa teruja nak tau macam mana rupanya. Bila search, jumpa London Eye. Terus tangkap cintan. Cantik nye la hai, nak-nak kalau naik malam. Yang kat KL dulu tak pernah naik, bila dia pindah ke Melaka pulak, aku dah ada kat Melaka, tapi masa tu dah tak beroperasi. Nak naik jugakk !!! Nak naik London Eye, #MyTravelokaEscapade bring me to London please.

Big Ben
Nama Big Ben sering digunakan untuk menggambarkan menara, masa dan loceng, tapi nama itu mula-mula diberikan kepada Great Bell. Menara Elizabeth, yang terletak di hujung Majlis Parlimen, telah siap pada tahun 1859 dan Jam Besar bermula pada 31 Mei dengan ngauman the Great Bell tu buat kali pertama pada 11 Julai dan loceng suku pertama pun berbunyi pada 7 September. Jam yang dipasang dalam tower tu adalah jam terbesar pada pertengahan abad ke 19.
Banyak sangat wishlist kalau aku ke London. Tak cukup nak susun semuanya dalam masa seminggu, hopefully #MyTravelokaEscapade boleh bagi aku bercuti lama sikit dekat London. Muhaha... Semuanya bermula dengan angan-angan kan.
Sumber gambar adalah dari Google Image.